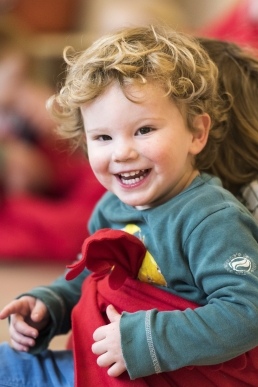 10-12-2016: Op zaterdag 7 januari starten er weer Samen in Kadans lessen. De lessen zijn bedoelt voor ouders en kinderen samen in de peuter- en kleuterleeftijd en zijn op zaterdagmorgen van 11:15-12:00. Hierna krijgen jij en je kindje nog iets te drinken. Een blokje lessen bestaat uit 5 lessen.
De lessen vinden plaats op:
7 januari 2017
14 januari 2017
21 januari 2017
28 januari 2017
4 februari 2017
Voor de 5 lessen samen betaal je 50 euro. En lever je de kleurplaat mooi versierd in, dan betaal je geen 10 euro, maar 5 euro voor de eerste les! De kleurplaat kun je hier downloaden.
Of maak gebruik van de huidige aanbieding: als je een ander kindje met begeleider meeneemt, geldt 2 voor de prijs van 1!
Misschien weet je nog iemand die het ook leuk vindt om samen met zijn kindje te dansen en te bewegen? Iedereen is welkom. De lessen zijn ook leuk voor kinderen die samen opa, oma, oom, tante, pleegouders en andere volwassenen graag wat leuks doen! Of geef een serie lessen kado aan je leuke buurvrouw…..
Komen jullie meedoen? Schrijf snel in!